Last week, I was fortunate enough to speak at the inaugural Office 365 Engage conference in Haarlem, Netherlands. I had been looking forward to it for months, not only because it was my first time visiting the Netherlands, but I had heard about how picturesque the city was and had been told that the conference venue, the Philharmonie, was something quite special. I can honestly say that no description could do it justice, it really is the nicest conference venue I've ever seen.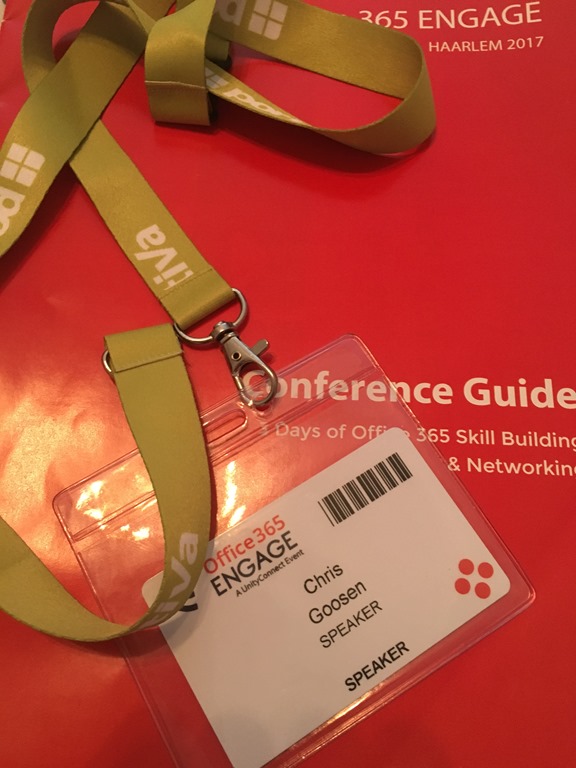 The conference itself was extremely well organized and I definitely have to compliment the organizers for the level of thought that went into every detail. There were more than 40 speakers, 31 of which were Microsoft MVPs. We were encouraged to call on our real world experience and be independent voices so this was a true technical conference and not just another marketing junket. There were 6 tracks with plenty of great content to go around:
Azure Infrastructure
Exchange Online
Office 365 Administration
Office 365 Applications
Office 365 Development
SharePoint Online
My sessions on Office 365 management and mobile device management were well received and I even managed to pull off an elaborate demo using a couple of devices. A special thanks to MVH for helping me getting around the need for multiple HDMI inputs, it definitely made the demo flow more smoothly.
After a few great days, I can only imagine that Office 365 Engage 2018 will be even better. If you are looking to build your skills and network with some of the best in the business, I'd definitely encourage you to check out Office 365 Engage in 2018 – I hope to see you there!